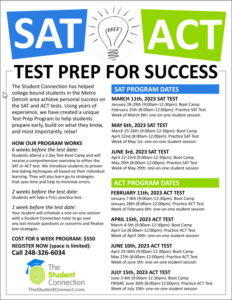 NEW FOR 2023:
Spring is almost here...start preparing your high school student for the ACT and SAT! Not there yet? We offer tutoring and academic help for students of all ages and grade levels.
Call us today at 248.326.6034 to see how we can help your student succeed!
2023 Winter/Spring Hours:
Monday: 9-9
Tuesday: 9-9
Wednesday: 9-9
Thursday: 9-9
Friday: 9-9
Saturday: 11-5
Sunday: by appt.